I don't know if was me that got results, but for this snow-bomb, Oak Creek got out there well before 5 am. In fact, they were working on my subdivision at 4 am.
See how much easier it is when the 4-hour prohibition on parking on the streets is taken advantage of, and 11 hours' worth of packed snow isn't being fought? It makes even a lot of snow (9 inches and counting) easier to handle.
Revisions/extensions (8:20 am 12/19/2008) – Don't say I never give the Soviets any props. My blogfather used to have this propaganda piece up at Spotted Horse when the White Death threatened us…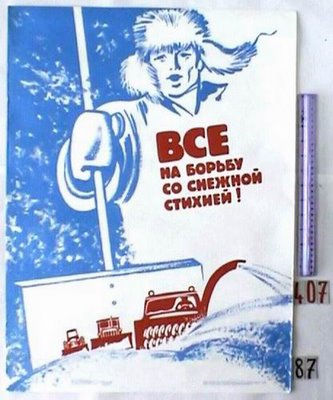 Everyone to the fight with the Blizzard!
R&E part 2 (4:05 pm 12/19/2008) – I can see pavement! MUCH better than last time.