The Milwaukee Brewers and the Miller Park District, just like the Nashville Parks Department before them, bowed to the PC Gorebal "Warming" crowd and pulled the previously-approved permits to tether the Hot Air Tour balloon in Miller Park's parking lot. Undeterred, Americans for Prosperity-Wisconsin will be holding the Hot Air Tour in the parking lot of AFP-WI, 1126 S. 70th St. in West Allis at 1:30 pm. We're still on for the 2nd annual Taxpayer Tailgate in the parking lot at 3 pm, and the game at 6.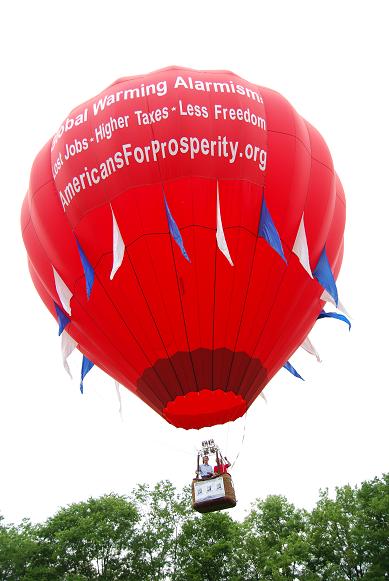 The balloon banned from Nashville and Milwaukee
Do click on the balloon (or here) to register if you haven't already done so. The triple-play (the Hot Air Tour, the Taxpayer Tailgate and a game ticket) is $21, the Tour/Tailgate combo is $10, and the Tour is free (and now without even the cost of parking at Miller Park).
Scheduled to speak at the Hot Air Tour are:
– Vicki McKenna, WISN & WIBA
– Congressman James Sensenbrenner
– Milwaukee County Executive Scott Walker
– State Representative and former WTMJ meteorologist Jim Ott
– AFP-WI State Director Mark Block
– AFP Director of Communcations Annie Patnaude
– Phil Williamson, Fight Back Wisconsin
One more housekeeping item; those of you who haven't already done so, sign Phil Williamson's petition to drill and refine in this country.
Also on the case – Owen and Capt. Karl.