Revisions/extensions (11:30 pm 6/17/2008): All of the forecasts quoted were pulled up from the various entities' websites between 10:55 pm and 11:05 pm while I was getting wet.
Weather forecast for the rest of tonight from the National Weather Service…
Partly cloudy, with a low around 54. Northwest wind around 5 mph.
Weather forecast from The Weather Channel…
Partly cloudy. Low around 55F. Winds NW at 5 to 10 mph. Precip: 20%
Weather forecast from WTMJ (both TV/DT-Channel 4 and AM)…
Mostly clear and mild. Low: 53. Wind: WNW 5-10 MPH.
Weather forecast from WISN-TV/DT (Channel 12)…
Partly Cloudy and Cool. Low: 53. Wind: NW 5-10.
Weather forecast from WDJT-TV/DT (Channel 58)…
Clouds thin out tonight with overnight lows, cool again, dropping into the low to mid 50's and a light west to northwest wind.
Radar picture of my neck of the woods at 11:08 pm 6/17/2008 (courtesy Weather Underground)…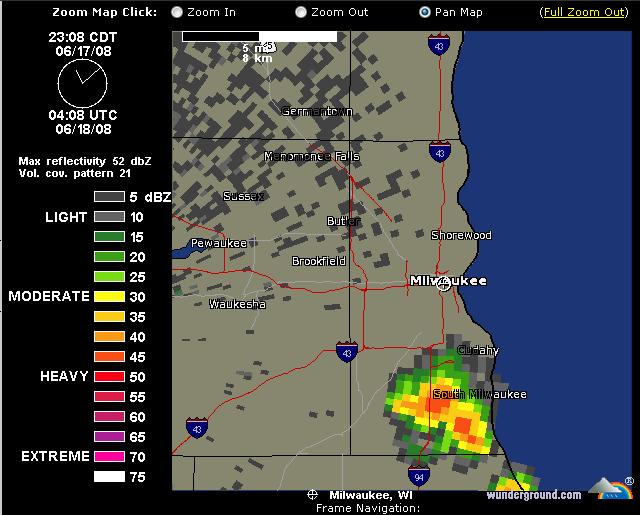 And as I typed this up, the shower passed over and the NWS issued a short-term forecast (at 11:07 just as the shower popped up)…
Scattered showers have rapidly developed over southern Dodge…northeast Jefferson…and central Milwaukee County. These showers are capable of producing heavy downpours as they push southeast around 40 mph.

Some cities impacted by these showers through midnight include Sullivan…Mukwonago…Oak Creek….and Racine.

There is a small scale cold front over eastern Fond Du Lac…Washington…and Milwaukee counties that is pushing southwest around 15 mph. Look for gusty northeast winds and temperatures falling into the lower 50s rapidly with the passage of the front. The front should pass through Waukesha and Kenosha by midnight.
I was unable to find an overnight forecast from WITI-TV/DT (Channel 6); they had already transtioned their website's forecast to tomrrow. Note the only entity that even raised the possibility of rain was The Weather Channel, and then they deemed the chance of rain so slight that it didn't merit an actual mention in the forecast.
And people wonder why I don't buy Gorebal "Warming" or whatever the acolytes are calling the anti-American/anti-capitalist line of bullshit nowadays. They can't even get the fucking forecast for the next 3 hours right.