It is especially appropriate for those of you between the Wisconsin bunker and the Minnesota bunker seeing the deepest of the foot-deep snow Gorebal "Warming" will be splitting the difference. My blogfather used to put this up at the various runs of Spotted Horse before he flamed out whenever Demon Snow threatened.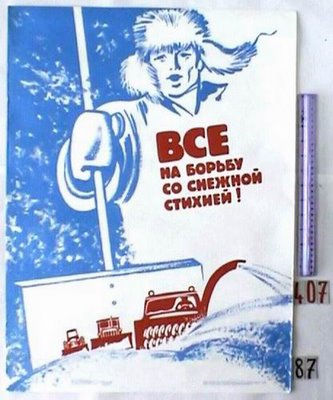 For those of you who can't read Russian, the rough translation is, "Everyone to the fight with the blizzard."
I have got to find the Brian Nelson classic "Demon Snow". The bad news is that the Bob and Brian album it is on, "Tahellwitchyoo", is out of print, and my copy is long gone.
Revisions/extensions (11:09 am 12/8/2009) – Thanks to a loyal reader, I now have "Demon Snow" in my inbox, and it's as good as I remember. Now go back Demon Snow, back from whence you came. Leave the good people of Milwaukee (and the Twin Cities) alone.