According to Baron's, there are several countries that are selling debt denominated in dollars.  If your own currency isn't the dollar, why would you sell debt that was?  It seems the short answer to that question is:  the dollar sucks, or at least that's what these countries think.
After falling off a cliff during last years financial challenges, the dollar crawled back up to respectability by March of this year.  From March on, the dollar has become the world currency version of the 98 pound weakling getting sand kicked in its face by every other major currency.  You can see this pictorially in the following graph of the dollar against the Yen: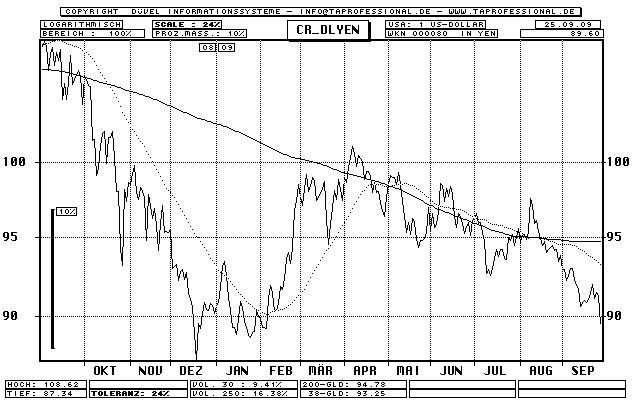 There are many things that influence a currencies value.  Debt, security and GDP all play into the value.  Unfortunately, many of those issues are moving towards the negative for the dollar, thus its decline.  That said, the dollar has one thing going for it.  As bad as things are in the US, there are many other countries that are in even worse situations.  Look across Europe and you'll generally find financial situations that make the US look great.  Look to South America, the Middle East and much of Asia and you'll find issues with security and stability.  For that reason and others there are a number of analysts that are ready to call a bottom to the dollar's slide.  In fact, some are suggesting that we'll see a rebound begin in the dollar.
One of the countries who have pulled the "debt for dollar" program is Venezuela. Venezuela is betting that their currency continues to do well against the dollar. So far the bet is working. The Venezuelan Bolivar is up 25% against the dollar in a little over a month.
I'm hoping the dollar analysts are right.  A stronger dollar buys us some time to get people elected that can solve our budget issues before China decides to throw in their chips.  A stronger dollar also wreaks havoc on Hugo Chavez's piggy bank by making him have to pay more of his Bolivars to repay his bonds.  A plus for the US and a minus for Hugo Chavez, what's not to like.  Consider it a twofer!