(H/T – Jon Ham)
I'm trying so hard not to make the inevitable A-cup jokes about the launch of the 10-foot, 1/2-ton, 4-passenger (yeah, right), $2,500 (or $3,000 after tax and title) Tata Nano in India. So, what else do you get with your 120,000 rupees (after tax and title)? Let's take a look (pic courtesy The Times (London):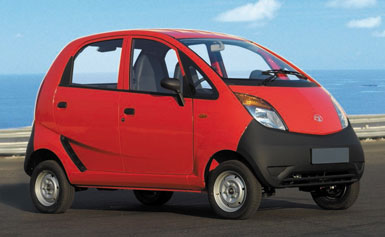 – 4 doors that lock
– 4 on the floor (those of you who said that you can't drive a stick, you're SOL)
– seat belts
– 2 cylinder, 33 hp gas engine, allegedly good for 50 mpg
– steering wheel
– a trunk big enough for a duffle bag
Air conditioning, power locks, radio and sun visors are available at extra cost.
In comparison, the DeWalt Nano…
…features seating for one in a custom-built racing seat, a 800-hp engine, built-in two-way radio, two ignition boxes, a 5-point racing harness, 4 racing GoodYear Eagles, detachable steering wheel, and at least in the pictured model, a lot of confetti for about $180,000.
Back to seriousness (or what passes for it here), while the manufacturer says that the Tata Nano has passed a full-frontal crash test, I'm reminded of another full-frontal crash test our British friends at "Top Gear" did:
[youtube]http://www.youtube.com/watch?v=d_t1l9pNHSI[/youtube]
Remember, the Smart is bigger and has airbags galore.