I've got a couple minutes between Madison's Tea Party and Fort Atkinson's, so I'll put a couple thoughts up on what 5,000-6,000 of my closest friends and I saw and heard.
– The theme of the day is that elections matter. It isn't enough to be involved today; we need to be involved tomorrow, next week, next month, and next election.
– I should've brought the Big Black Camera. It was far too bright to get good pics off the Blackjack.
– It was refreshing to hear both Reince Priebus (RPW chair) and Rep. Paul Ryan note that both parties are at fault for this. Ryan did, however, forget that his votes of last year, and his vote for the 90% TARP tax, are also parts of this.
– Superior mayor Dave Ross wondered where the higher-taxes rally was. I submit it was inside that building we were in front of.
– Speaking of that building, and the party that controls it, they pulled a rather dirty trick by scheduling a whole host of committee hearings for during that rally. Leah Vukmir didn't get out of her committee hearing until at the end.
– Personal lesson of the day; check the batteries in the voice recorder before bringing it. DVR #1 died about 30 minutes in, and DVR #2 died just as Vicki McKenna came out.
On to a quick look-in at Fort Atkinson, then a mad dash to Appleton.
Revisions/extensions (10:52 pm 4/15/2009) – Roland Melnick of Badger Blogger got a pic of THE SIGN OF THE DAY (that's right; all credit goes to him, not me)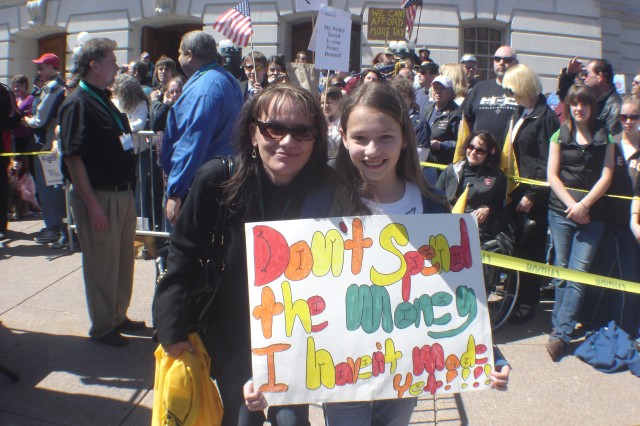 Click for the full-sized pic, and don't forget to credit Roland