Below is the screencap of this morning's Environment Canada official government-provided forecast for Dryden, Ontario, the closest forecast point to North Shore Lodge on Eagle Lake, where I'll be the next week (do click for the full-sized pic):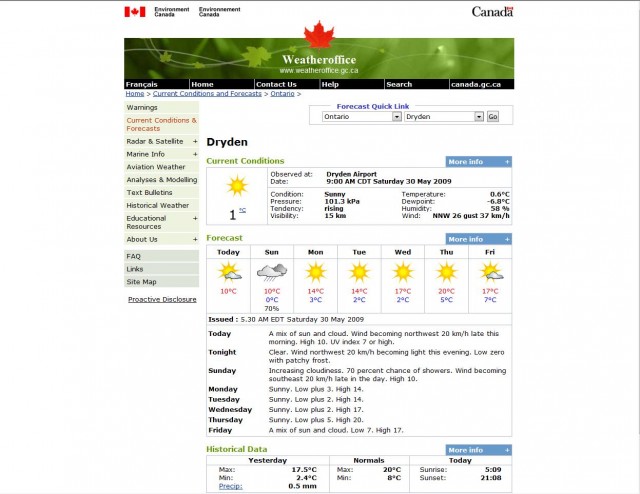 For those of you who can't do the math conversions of the temperatures, allow me to do them for you:
Saturday night's low (what I will be arriving into) – 32 degrees
Sunday's high – 50 degrees (with rain and a 13-mph wind)
Sunday night's low – 37 degrees
Monday's high – 57 degrees
Monday night's low – 35 degrees
Tuesday's high – 57 degrees
Tuesday night's low – 35 degrees
Wednesday's high – 63 degrees
Wednesday night's low – 41 degrees
Thursday's high – 68 degrees
Thursday night's low – 45 degrees
Friday's high – 63 degrees
Did I mention that the average high for today is 68 degrees, or the average low is 46?
Don't worry; the cabins are heated, and I AM from Wisconsin, so I'm used to the cold. I also have good rain gear, so I won't get too wet. In fact, the first year I went up there (Memorial Day week, 1996), the place went from 80 degrees to snow flying during the day.
However, I do have a question. Where's my Gorebal "Warming", Algore? Five days of six are forecast to have below-average highs, and all six nights are forecast to be below average.
If you think that the Canadian government can't get it right and want to consult a second source, let's go to The Weather Network. Their Saturday AM forecast has all six days with below-average highs, and five of six nights with below-average lows.